Anastasia Higginbotham: Roller-Skate Collage Party!
Old Firehouse Books is exctied to welcome author Anastasia Higginbotham to our virtual event space! We'll be celebrating her new book, What You Don't Know: a Story of Liberated Childhood! Anastasia will be leading kids through a Roller-Skating Party Workshop, in which they will create collages that put their community in the rink with them—real life people they know and trust, as well as strangers or historical figures whose radiant and genuine presence (even in spirit) is liberation.The event will take place on Saturday, February 6th at 1pm MT. The event will be streaming to the Old Firehouse Books Facebook page, and is free.
It's a book about knowing deeply that you matter--always did, always will. It's a book about what schools get wrong and churches don't say; but institutions are made by people and the people are evolving. It's a book about being known and cherished by family. It's about being young. It illustrates how families, teachers, counselors, and other "stars" are already beaming love at queer, gender nonconforming, and trans children, to protect them as they are. And the workshop is about getting creative and making these people present in your life! You'll need some supplies--Pens and pencils, Scissors, Glue stick, paper (construction paper, paper bag, magazine images), your creativity, and the Roller Rink Background you can download from this page. (Remember: There are no rules about the materials! A pencil or pen and paper is enough! The back of an envelope or some newspaper is enough! Stick figures are enough!) The whole point is to have fun! And we hope that you will join us and have so much fun!
Books can be shipped anywhere within the United States (unfortunately, we cannot ship internationally).
Please email events@oldfirehousebooks.com if you have any questions.

We look forward to seeing you at the event!
Event date:
Saturday, February 6, 2021 - 1:00pm to 2:00pm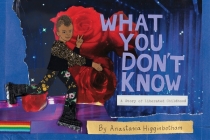 $19.95

ISBN: 9781948340298
Availability: Not on our shelves; Available to order; Arrives in 5-7 business days
Published: Dottir Press - January 26th, 2021
---