Adopting the Unadoptable with Steve Greig
Old Firehouse Books is excited to welcome Instagram sensation Steve Greig and his furry friends to our store! We will be celebrating the release of his new book The One and Only Wolfgang: From Pet Rescue to One Big Happy Family. Join us on Tuesday, October 15th at 6:00pm and learn about this oddly wonderful family of misfits. Old Firehouse Books is also excited to welcome a representative from the Fort Collins Cat Rescue/Animal House to the event. They will speak about the merger between their two organizations and the work they are doing to make sure every furry critter has a home. This event is free and open to the public.
Steve Greig is an accountant whose passion for animals had led him to become an advocate for pet adoption. After the passing of his beloved dog, Wolfgang, Steve felt the best way to honor his memory was to adopt the oldest, least-likely-to-be-adopted dog at the shelter. Since then, he has continued to adopt the most "unadoptable" animals he can find. The One and Only Wolfgang showcases the importance of family and reminds readers that no matter how old or how odd, everyone has a place where they belong.
We hope you'll join us for this event!
Event date:
Tuesday, October 15, 2019 - 6:00pm to 7:00pm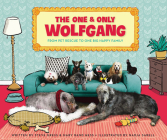 $17.99
ISBN: 9780310768234
Availability: On Our Shelves Now
Published: Zonderkidz - September 3rd, 2019
---